---
Welcome to the ProCharger and Performance Page!

Italian Designes is now installing ProChargers Systems and Performance Upgrades.

ProCharger supercharger systems are absolutely the most powerful and reliable supercharger systems available for your vehicle. For street use or at the track, Intercooled ProCharger supercharger systems will deliver the largest increase in horsepower and torque available from any supercharger system. And thanks to the extremely low charge air temperatures provided by ProCharger technology, ProCharger systems also provide much better engine longevity by protecting your motor from detonation. ProCharger systems are designed with a fundamental understanding of the physics behind supercharging, and are engineered to the highest quality standards.

Contact Italian Designes for pricing on system installs, exhaust upgrades and custom Dyno Tuning.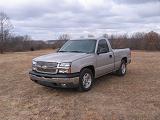 Here is a 2005 Chevy truck with a 5.3 litre V-8. Upgrades for this truck included Dynomax long tube headers and high flow cats and muffler, 46 lbs injectors, ATI Procharger kit and Custom Dyno tuning from FastChip.
The results are 420 HP and 540 ft lbs of torque